Leading 3D printing specialist Ultimaker has announced the launch of its new 3D printing material Ultimaker PETG. PETG joins a number of other filaments offered by the company including PLA, PVA, nylon, CPE, ABS, and PC. The company said it chose to develop the material because its recently released 3D Printing Sentiment Index found it to be one of the top three printing materials used by respondents. Since they couldn't find a satisfactory, compatible filament through a third party, they decided to make their own filament that would fit seamlessly into the Ultimaker ecosystem.
Although Ultimaker is primarily known for FDM 3D printers like the Ultimaker S5 and S3, it offers a number of other products to ensure that every user gets the best possible printing experience with their machines. The company recently announced its new software strategy in which the Ultimaker Essentials platform will be integrated into all 3D printers in order to simplify the printing process for customers. They also sell a range of supplies, both from them and from partners, that are compatible with Ultimaker printers. In this case, the company finds that the PETG was specifically designed to provide Ultimaker users with the best possible printing experience and to avoid common problems such as stringing, warping, or incompatibility with PVA and breakaway substrates.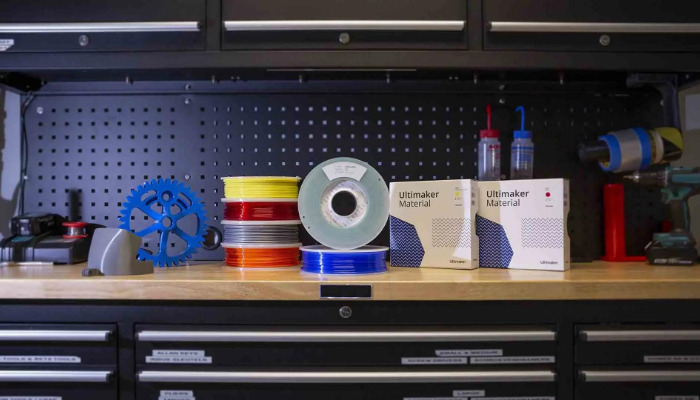 As mentioned earlier, PETG, a glycol-modified version of polyethylene terephthalate (PET), is one of the most popular 3D printing materials. Like PLA, it's easy to print (great for beginners and experts alike), but it also has the added benefit of having a number of impressive physical properties such as water and chemical resistance. According to Ultimaker, their PETG filaments are perfect for various industrial environments due to their good printability, the balance between toughness and stiffness, chemical resistance, temperature resistance and wear resistance, as well as the well-known PETG properties. In addition, it is designed to be durable and not damaged by friction or use, as well as to withstand humid environments and temperatures of up to 76 ° C, which means that all parts made with the material will last a long time.
Miguel Calvo, CTO at Ultimaker concluded: "Adding Ultimaker PETG to our standard materials is a natural next step after launching our platform. It expands our material portfolio as the industrial use cases for 3D printing continue to grow. Its excellent all-round properties are a strong addition to our platform and ideal for typical industrial environments and applications. Ultimaker PETG will continue to fuel creativity and innovation as users work hard to keep production and everyday life going despite the external challenges we all face. " Ultimaker PETG is available in 750g spools starting at $ 49.95 through Ultimaker's resellers. You can find out more about Ultimaker PETG HERE.
.What do you think about Ultimaker PETG? Let us know in a comment below or on our page Facebook, Twitter and LinkedIn Pages! Sign up weekly for free Newsletter here, the latest 3D printing news delivered to your inbox!
* All picture credits: Ultimaker