Polymer 3D printing specialists Polymaker and Covestro have announced that they will be launching a new material at the upcoming TCT Asia 2021 trade fair, some of which will be made from recycled plastic bottles.
The environmentally friendly filament, known only as "PC-r", is based on a recycled polycarbonate (PC) developed by Covestro, which is obtained from reused Chinese water bottles. By mixing this plastic waste with raw materials, the companies have formulated a 3D printable material that can enable the more sustainable production of parts in the automotive or electronics industries.
One of the smaller plastic water bottles from Nongfu Spring. Photo via the South China Morning Post.
Covestro's circularity drive
Since it was founded as a legally independent company in 2015, Covestro has developed into a global polymer business with a broad portfolio of elastomers, foams, films and composites. When it comes to the company's 3D printing offerings, including Addigy, Somos, Arnite and Makrolon materials, there is an increasing effort to source these in a more sustainable way to further the circular economic principles.
Covestro has launched a new environmentally friendly Addigy range at Formnext Connect, which is either made partially from recycled plastics or consists of up to 20% CO2. Since then, the company has reiterated its commitment to sustainable manufacturing with the release of its fiberglass-filled Arnite AM2001 GF material, which is also said to have a significantly lower carbon footprint than traditional raw materials.
The company's new PET was the first raw material from its newly acquired ex-DSM subsidiary. The takeover reflects Covestro's will to find external partners for the production of environmentally friendly materials. Last year the company also worked with Polymaker to develop waste-free 3D printable fabrics, and it now appears that the duo have continued their circularity efforts to jointly develop PC-r.
The fabrics from Covestro and Polymaker will be presented at a trade fair in Shanghai. Photo via Polymaker.
Debut of the bottle-based PC-r
The material basis for the latest filament from Polymaker and Covestro are 19-liter bottles that have been recycled by the Chinese water utility Nongfu Spring. Because these containers come from a single location, are mostly pure PC and are abundant across China, they can be quickly and inexpensively reused with minimal sorting, making their recovery economical and environmentally friendly.
In terms of final performance, the companies say their new material has "excellent thermal stability and strength," which means that maintaining a constant chamber temperature is critical to producing successful prints. So during the development of their filaments, the companies worked with INTAMSYS to validate the processability of PC-r by running multiple test production runs.
During the tests, Polymaker and Covestro were able to use the 3D printer FUNMAT PRO 410 from INTAMSYS, which has a chamber that can be heated to 90 ° C in order to produce complex parts without deformation. Summary tests later showed that the PC-r scored high in terms of tensile strength, flexural strength, elastic modulus and flexural modulus, and exceeded the normal PC in every area.
The filament also met industry-specific requirements such as the Blue Angel and EPEAT seals. Due to its recycled base, it has a lower carbon footprint compared to normal raw materials. Because of this, companies believe that PC-r could be ideal for customers looking to make their supply chain more sustainable and active on a larger scale.
Now that the new material is ready to be launched, the companies will present it at TCT Asia between May 26, 2021 and May 28, 2021. Polymaker will be exhibiting at booth F44, Covestro will be demonstrating at E46 and its new DSM material portfolio can be seen at C48.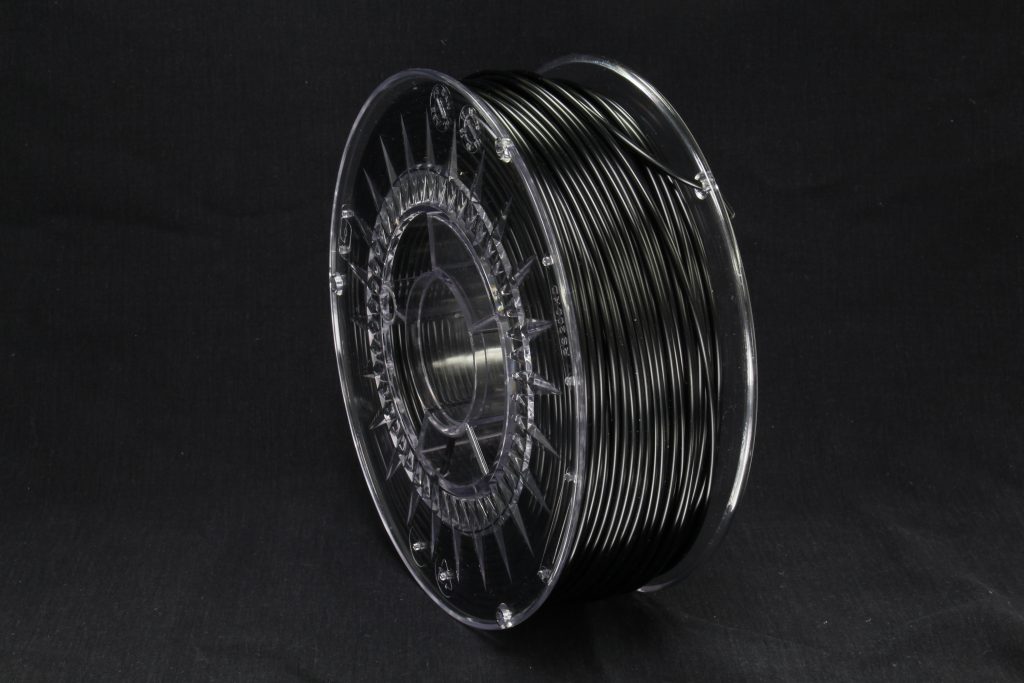 A spool made from Polymaker and Covestro's new, partially recycled PC-r filament. Image via Covestro.
Recycled 3D printable raw materials
While Covestro has demonstrated its commitment to sustainable manufacturing, it is by no means the first time a commercial filament made from recycled plastic has been launched. Earlier this year, Spanish 3D printing materials maker Recreus also launched an environmentally friendly new TPU made entirely from recycled shoes and household waste.
Fishy Filaments from Cornwall is committed to converting recycled nylon fishing nets into filaments that can be used by both hobbyists and professional designers to 3D print parts. In October 2020 the company signed a distribution agreement under which the range of sustainable materials has since been marketed by British AM supplier 3D Printz.
Similarly, KLM Royal Dutch Airlines announced that PET bottles will be recycled into 3D printing devices. The company has collected empty containers from its flights and sent them to Morssinkhof Rymoplast, which then converts them into plastic pellets that can eventually be converted into filaments by reflow.
Don't forget to subscribe to the 3D printing industry newsletter or follow us on Twitter or like our page on Facebook to keep up to date with the latest news on 3D printing.
To get a deeper insight into additive manufacturing, you can now subscribe to our YouTube channel, which contains discussions, brief information and recordings of 3D printing in action.
Are you looking for a job in the additive manufacturing industry? Visit 3D Print Jobs for a selection of roles in the industry.
The picture shown shows one of the smaller plastic water bottles from Nongfu Spring. Photo via the South China Morning Post.