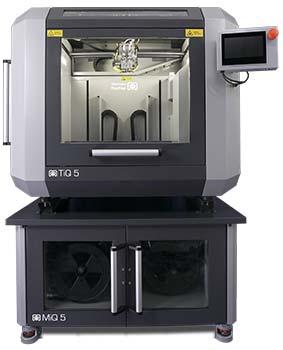 The TiQ 5 is a filament printer and the successor to the German RepRap x500 pro. And according to the manufacturer, the two printers look similar on the outside, but completely different on the inside.
The main differentiator is the industrial control of the TiQ 5. It supposedly enables faster printing speeds, higher precision, and higher reproducibility than the previous generation device. Due to these properties, the machine is suitable for series production in small numbers, according to the company.
The machine's large, heated installation space makes it easy to print engineering thermoplastics, including ABS, Sabic Lexan PC, PP, PA6,6 CF / GF, TPC and TPE. The printer also has water-cooled electrical components. a dual-lift extruder that can print two components at the same time; and intelligent functions such as material flow monitoring and automatic calibration of the nozzle and print bed.
In related news, the company added drying cabinets to its product line. The MiQ 5 dryer stores filaments that are fed to the printer at the optimal temperature and humidity.